Spaniard wins rain-affected final in four sets to eclipse Borg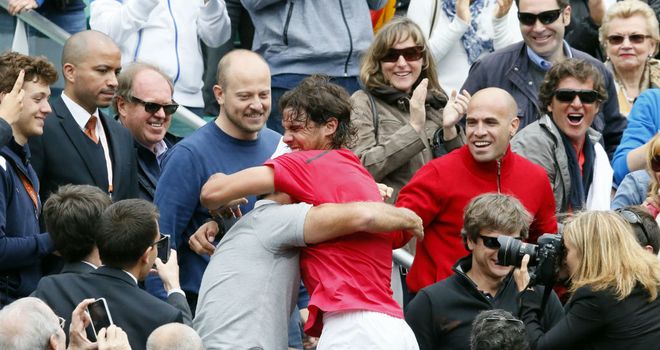 Rafael Nadal made history by securing a record seventh French Open title on Monday, winning his weather-affected final with Novak Djokovic in four sets.
With play having been held over after persistent rain on Sunday, it was the Spaniard who prevailed as he recorded a 6-4 6-3 2-6 7-5 victory that saw him eclipse the six titles of Bjorn Borg.

Resuming a break down at 2-1 in the fourth set, Nadal
started in the same vein as he had on Sunday when he raced into a 3-0 lead in the first set, clearly much more comfortable with the dry conditions and lack of moisture in the balls that had hampered him later that evening.
A couple of lapses from Djokovic
were pounced on and he secured an immediate break back, although there was a slice of fortune about it with a net-cord leaving Djokovic helpless at the net as the ball whizzed past him.
With the Spaniard having snatched the early momentum, Djokovic did well to recover and settled any nerves by holding to level as an increasingly tense set remained on serve.
Both players were taken to 30-30 on their delivery but, on each occasion, would go on to escape as their opponent threw in an unforced error, but it was Nadal who put himself on the brink when three huge forehands secured him a break point at 6-5, 30-40.

Double-fault
With Djokovic's famed powers of recovery it came as a big shock then when the world number one double-faulted to hand his opponent victory and a place in Roland Garros
folklore.
Yesterday's first part had certainly not been short on drama, whether it was the fluctuating fortunes of both men or the weather itself.
Nadal had looked dominat as he moved two sets and a break up, but after a rain delay of three hours the wet and heavy conditions affected the Spaniard both physically and mentally during the third and fourth sets.
From 0-2 down in the third, Djokovic reeled off eight straight games to get himself right back into the match and it was Nadal who had been desperate to get off the court on Sunday evening.
The Spaniard was getting increasingly irate as they continued to play, the balls so wet and laden with clay that he could not impart his vicious spin.
But he did manage to hold serve in the final game before play was abandoned and that hold turned out to be crucial when play resumed on Monday.
Meanwhile, the defeat meant that Djokovic failed in his bid to become the first man since Rod Laver in 1969 to hold all four grand slam trophies at once following three successive grand slam final victories over Nadal.






Source : SkySport.com