The midfielder has described his team-mate as a "massive part of the dressing room" and revealed how he advised him to bide his time at the Emirates Stadium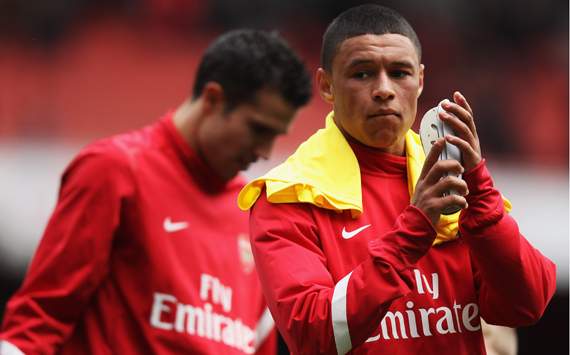 Arsenal midfielder Alex Oxlade-Chamberlain is keen to see star striker Robin van Persie remain at the Emirates Stadium not only for his goals but for his influence off the pitch at the club.
The 28-year-old has been linked with several of Europe's top clubs since the end of the season including Manchester City and Juventus.
Oxlade-Chamberlain hailed Van Persie's leadership as Gunners captain and explained how the Dutchman acted as an intermediary between the players and manager Arsene Wenger.

"It's clear how important he has been for us with the goals he's scored, he is one of the best strikers in the world," Oxlade-Chamberlain told The Sun.

"He's a massive part of the dressing room, helping all of us and speaking to the manager about what we're feeling, what we want and what we can do better.

"He even does the little things like arranging get-togethers with players' wives and barbecues and fun days and golf days."

Oxlade-Chamberlain found himself in and out of the first team during his debut season in north London but he explained how Van Persie advised him to wait for his opportunity.

"He told me that when he first came to Arsenal it was quite similar to me how the boss dipped him in and dipped him out," Oxlade-Chamberlain added.

"He would score a goal then wouldn't play the next game or he might score two and he wouldn't get on in the next game or would play five minutes.

"He told me to keep working hard and bide my time and keep plugging away and my time will come. Before games he tells me to do this or that or go here on a corner. He's a big leader.

"It will be good if he stays, definitely. I don't know if he will but I hope he does."
Source : Goal.com