The Blues' chief executive backed the £50 million striker to lead the line at Stamford Bridge next season, but refused to commit to Roberto Di Matteo as the club's next manager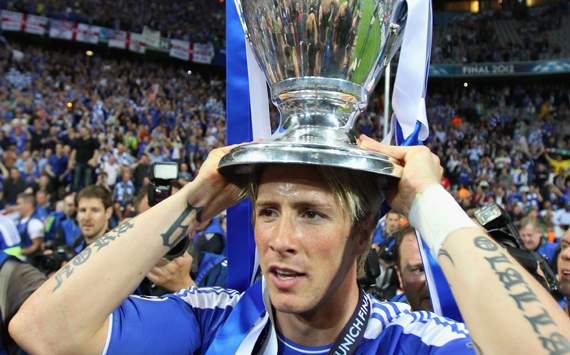 Chelsea chief executive Ron Gourlay has backed Fernando Torres to score goals at Stamford Bridge next season and insists that "things are fine" with the Blues' £50 million striker.
Torres revealed his disappointment at a frustrating year spent largely in Didier Drogba's shadow shortly after the Champions League final in Munich on Saturday.
However, Gourlay has moved to assure the Spaniard of his role at the club following the departure of the talismanic Ivorian.

"We've got Fernando Torres," Gourlay told reporters on Wednesday. "And Fernando Torres is the man that we will go forward with and Fernando Torres will score us the goals.

"We have no doubt that Fernando Torres is a world-class centre-forward and Fernando Torres will score goals for Chelsea.

"I'm not worried about Fernando at all. We've just won the Champions League and Fernando Torres played his part in that.

"It's not all about goals. It's not just about the individual scoring goals but also his teamwork. He is a very, very important player. And I think you will see Fernando Torres score many goals for Chelsea."

Gourlay put Torres' outburst down to the mixed emotions of having won the Champions League despite missing out on a place in the starting XI at the expense of Drogba.

"On Saturday he was emotional," Gourlay explained. "He was disappointed that he didn't play, and I think that led to the rest.
"Things are fine. There is no problem. Fernando is a fantastic player and an asset to the football club and we have no problems at all."

Gourlay repeated his praise for interim boss Roberto Di Matteo following his cup double but reiterated that the process for selecting a permanent manager had not changed.

Chelsea owner Roman Abramovich and the club's board will choose a boss independently, he added, and not bow to player pressure.

"Robbie has done a fantastic job but we said we would wait until the end of the season," Gourlay maintained. "He has known from day one how we were going to handle this.

"We have always done what we believe is right to keep moving this football club forward. When you take into account how many managers have been sacked and look at the success we have had on the field, it has been there. Whether you like our model or not, we have delivered.

"We do listen to the fans and the players but it won't force us to rush into a decision. We have to get it right. We won't get into the scenario where the players pick the next manager. It will be the owner and the board that will decide the best way forward."
Source : Goal.com